Because how could anyone possibly resist a show about an 11-year-old helping koalas?
In search of a show the kids (and the entire family, really) are guaranteed to love? Fire up Netflix and press play on Izzy's Koala World. Really, do it. Now. You won't regret it.
Premiered this past week on Sept. 15, Izzy's Koala World follows Izzy Bee, an 11-year-old "koala whisperer" who cares for koalas in her family's animal sanctuary in Australia.
And if that brief description of Netflix's newest family-friendly series didn't already sell you, then maybe this part of the synopsis will:
"Helping koalas in need is 11-year-old Izzy Bee's passion in life," the show's description starts. "Izzy and her mom, who happens to be the only veterinarian on their home of Magnetic Island, have made it their mission to rescue and rehabilitate any koala who needs help. They take them home, welcome them into the family, and nurture them until they're ready to be released back into the wild where they belong."
Throughout the show, viewers follow Izzy as she rescues and forms friendships with koalas, "all the while showcasing a generosity of spirit and a deep intuitiveness that is striking, extraordinary, and magical to watch."
"They all seem to gravitate toward her," Izzy's mom, Ali, tells the Associated Press. "They're wild animals. They're terrified. They need that calming, gentle, quiet, loving presence."
Magnetic Island, located off the east coast of Australia, is home to hundreds of koalas; and when these koalas are in need of help, Izzy and her family nurture the cuddly animals at their sanctuary until they're ready to be released back into the wild. That includes checking in on them every day, feeding them, playing with them, and, in the case of Izzy, working on homework while a koala sits atop her head and hugging them while she brushes her teeth.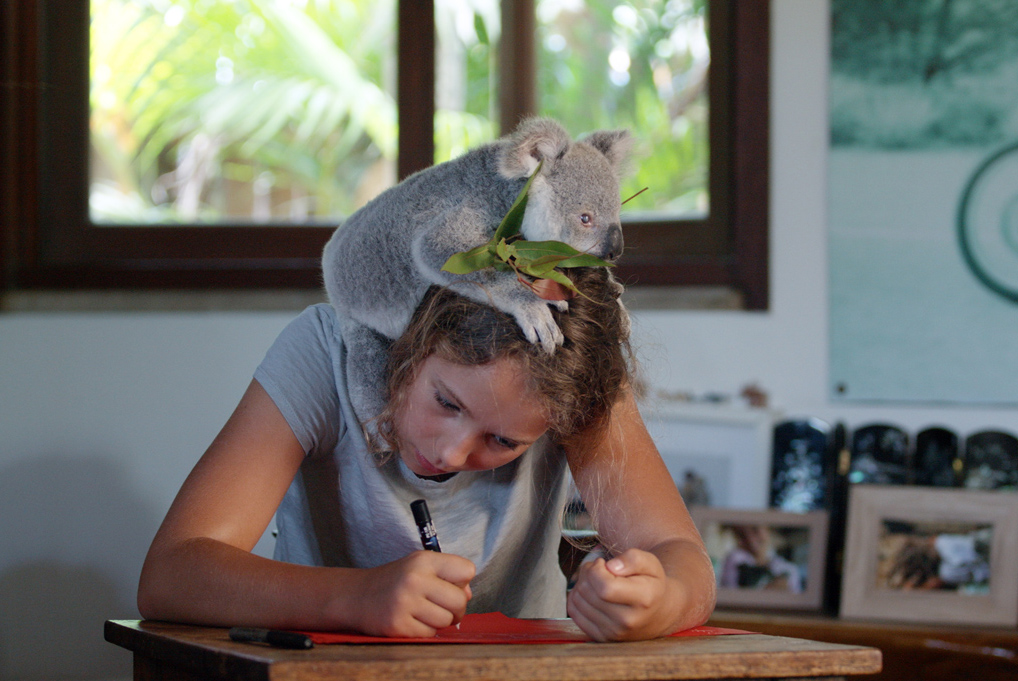 "It's hard to explain," Izzy tells AP. "When I'm with them, it's just sort of like really calming. They sort of like understand me in a way."
Izzy's Koala World is one of seven new Netflix Original Preschool titles that are not only produced by creators from all over the world, but are also designed for diverse audiences.
"With high-quality, age-appropriate programming for kids at every age and stage, we want to help young people find and connect with the stories and characters they love on Netflix," said Melissa Cobb, vice president of original animation at Netflix, in a July 2019 press release. "We are also here to empower parents to find the shows that are just right for their families during whatever time they feel is appropriate to enjoy entertainment."
The other six new Netflix Original Preschool titles include DreamWorks Dragons Rescue Riders, Hello Ninja, StarBeam, DreamWorks Go, Dog. Go!, What-To-Doodles, and Emily's Wonder Lab, which has received much praise from parents and kids alike.
"I'm just…so incredibly proud that my daughter will be able to watch this someday," wrote host Emily Calandrelli, who was nine months pregnant while filming the Netflix show. "When I was studying to become an engineer, I was one of 2 or 3 women in classrooms of 50 men. I'm hoping shows like this help change that demographic for her generation."
tinyurl
is.gd
v.gd
v.ht
u.nu
clck.ru
ulvis.net
shrtco.de
tny.im